Aedes de Venustas Eau de Parfum
Created in 1995, the AEDES DE VENUSTAS boutique is positioned as the ultimate Art Perfume Gallery specialized in fine fragrances. Located at the quiet end of a curvy West Village street in New York city, this cozy haven for all that smells delicious has become a world famous destination for all perfume lovers, celebrities, socialite and fashion designers in search of superior customer experience.
With its first signature scent AEDES DE VENUSTAS honors the past, present and future of perfumery.
Where it all began…
17 years ago, Robert Gerstner and Karl Bradl opened a bijou fragrance boutique in the heart of New York. Their vision was simple: they wished only to help fledgling perfumers promote and develop their fragrances, with an emphasis on original, luxury and sophisticated scents. Thanks to them, many niche perfume brands have found their feet in the industry and gone on to further development and success.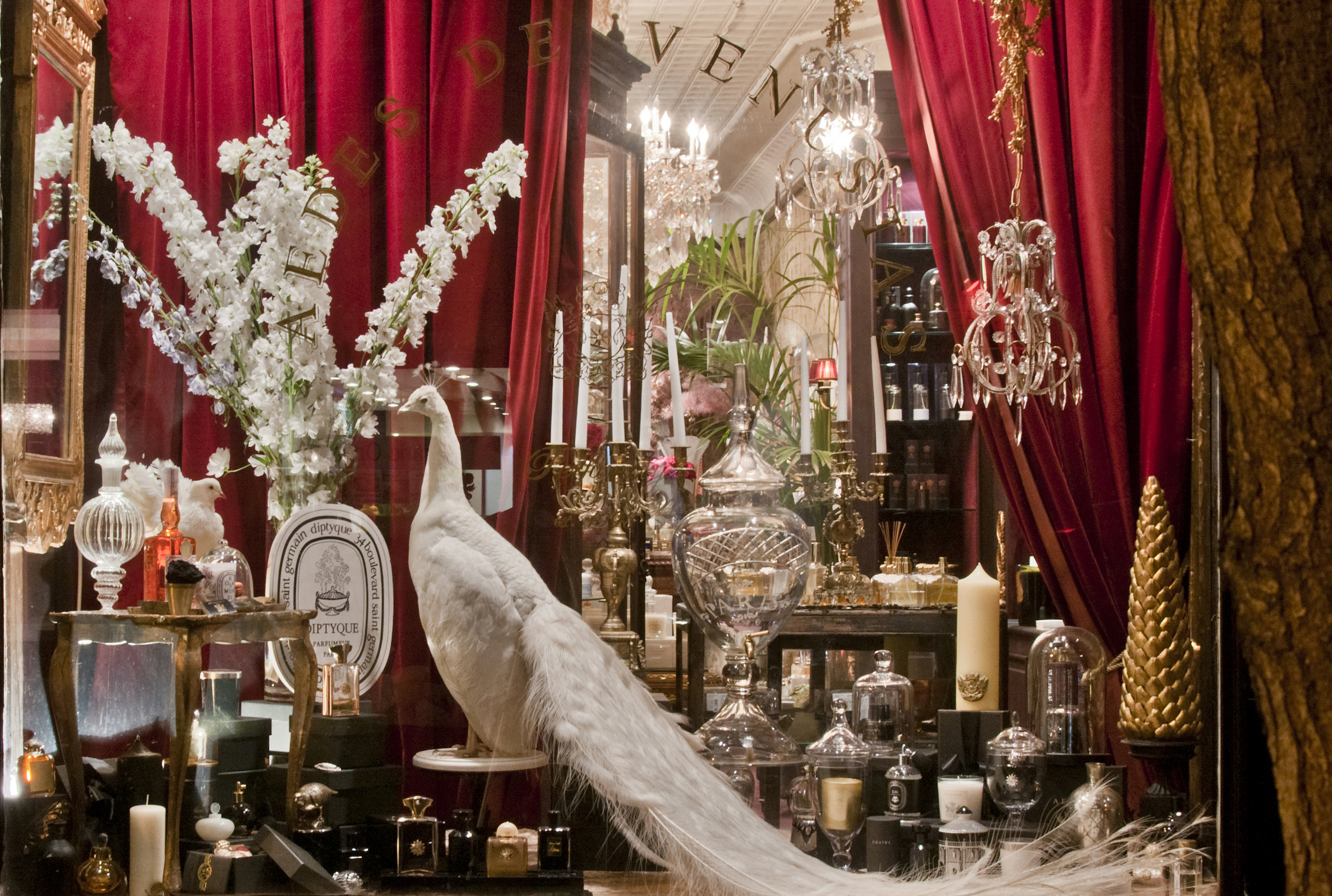 Originally, Gerstner and Bradl maintained they did not want to create their own fragrances. But in 2012, after many years, the company finally revealed their first, signature perfume: the much anticipated Aedes de Venustas Eau de Parfum.
The fragrance is described as the natural extension of the epicurean store, aiming to honour the past, present and future of perfumery. There is no traditional fragrance pyramid; instead notes of vetiver, incense, hazelnut, tomato leaf and green apple revolve around the central, ephemeral freshness of rhubarb accord.
The construction is round, luxurious and addictive: Aedes de Venustas truly is the past, present and future of perfumery in simultaneous revolution.
Perfumer Bertrand Duchaufour describes the perfume as a game of supports in an unexpected, even improbable, olfactory architecture because the green effect increases while the heavy dark resinous incense and chypre accord is largely deceasing and getting more abstract.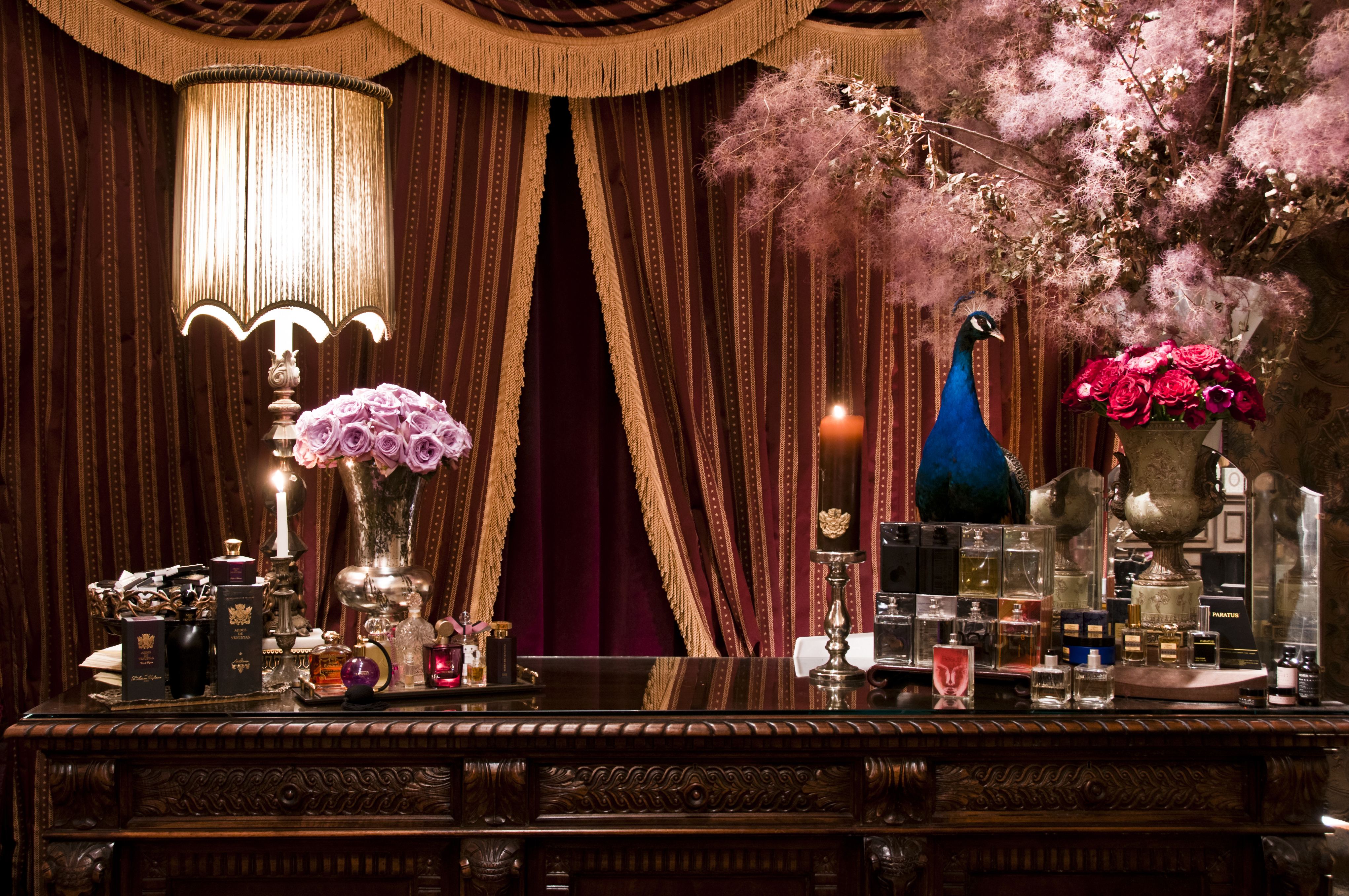 The Design:
The design for the AEDES DE VENUSTAS Signature Eau De Parfum bottle was inspired by a 1920's piece of art glass co-owner Karl Bradl discovered in a flea market in New York City's Chelsea.
Bradl and partner Robert Gerstner were not developing a fragrance for their boutique at the time, but the antique, with its unique zamak metal accents, became a symbolic muse inspiring the concept for several luxury fragrances which the brand will release over a five year period.
Housed in aubergine glass, the bottle disrupts classic rules of design with its round and square shape, hinting at the unique construction of the fragrance housed within its body. The circumference of the cap is uniquely positioned and adorned with the AEDES insignia. A baroque yet futuristic ambience emanates from the skin as soon as the fragrance is applied, embodying the magic that is the AEDES DE VENUSTAS boutique. It is the first touch of AEDES DE VENUSTAS, a touch that will never be forgotten.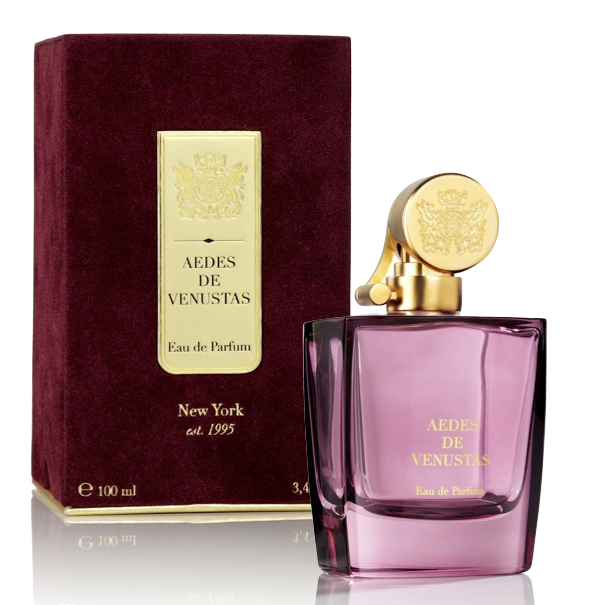 The Parfum:
The composition of AEDES DE VENUSTAS Signature Eau de Parfum is a world onto itself. There is no trace of the traditional fragrance pyramid. The construction is round, luxurious, voluptuous and addictive. The scent's chypre character is pierced at its center with the ephemeral green freshness of rhubarb accord; the axis around which the fragrance revolves, like the wearer emanating its memorable sillage.
On an interesting note, many of the ingredients in AEDES DE VENUSTAS Signature Eau de Parfum have been sourced by Bertrand Duchaufour himself. The ominpresent Vetiver is from Madagascar where Mr Duchaufour traveled to meet the farmers and made sure it complied to fair trade practices.
Notes include: Rhubarb, vetiver, red berries, tomato leaf, incense, green apple, hazelnut, honeysuckle.

The fragrance is accompanied by a candle and handmade soap.
A hand-poured artisanal candle housed in aubergine glass is one of two ancillary products in the AEDES DE VENUSTAS Signature line. Perfumer Bertrand Duchaufour designed the candle scent for sustained aromatization with a 40-50 hour burning time. The result is a richly infused paraffin wax with deep, powerful green and dark notes imbued with incense and ganja. The candle features a lead-free wick.
The second ancillary product in the AEDES DE VENUSTAS Signature fragrance line is a finely milled soap. It is handmade in France by maitres savonniers Bernard and possesses a quality of "savoir faire" that is a reflection of three generations of pedigree. Made with an emollient vegetal base, the combination of the fragrance boosted with natural oils leaves the skin enchantingly soft and supple.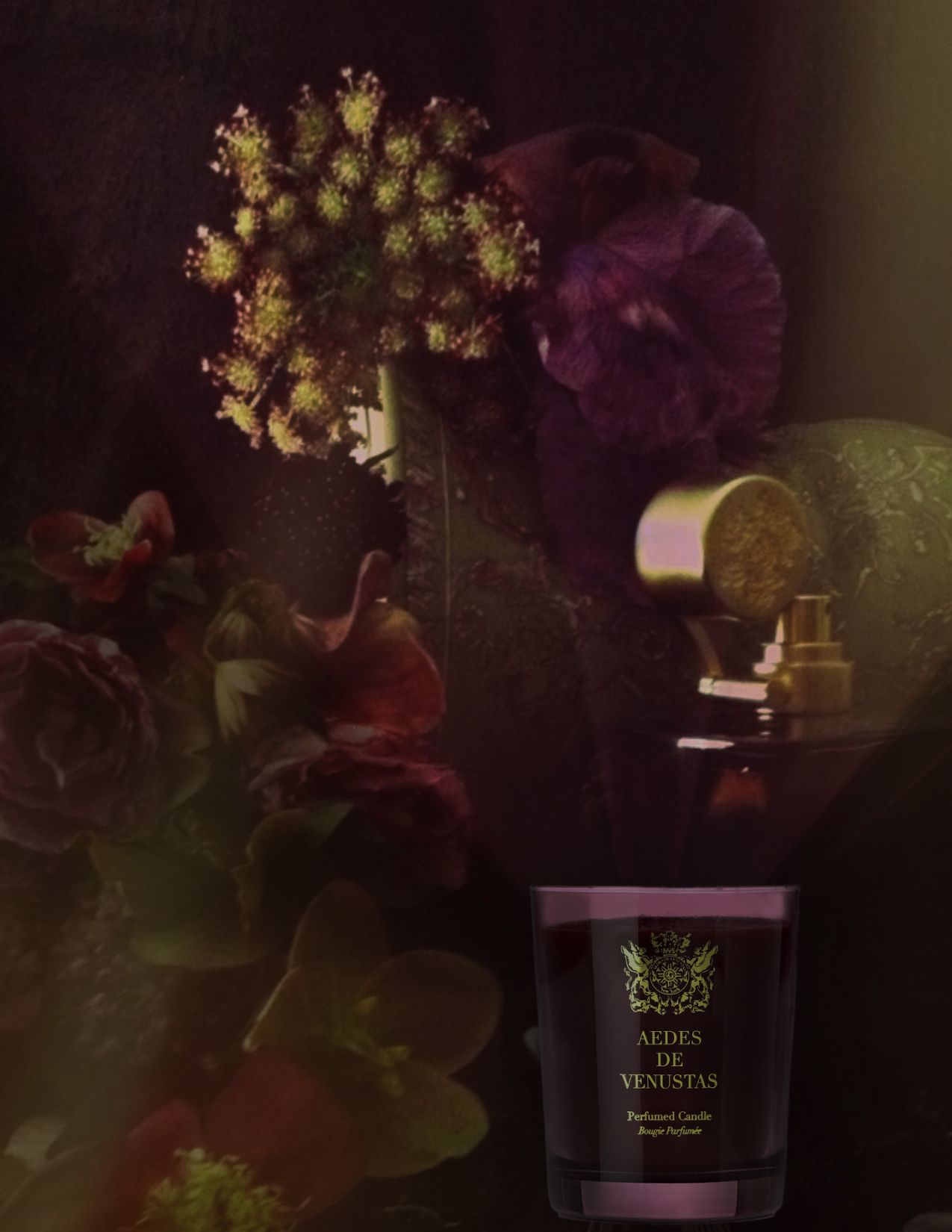 A few final words from Bertrand Duchaufour:
"I had acquired a very specific approach to perfumery, which is that of all the perfumers in the big labs. By becoming independent, by working in my own lab, directly on my formulas, by weighing them, I've developed a different approach to perfumery, another way of building my perfumes. My control over raw materials is getting better and better" - Bertrand Duchaufour.
Want to experience the fragrance for yourself?
Aedes de Venustas is exclusive to Liberty London in the UK. You can buy in store or online here. Priced at £185 for 100ml.
---
June 20, 2014