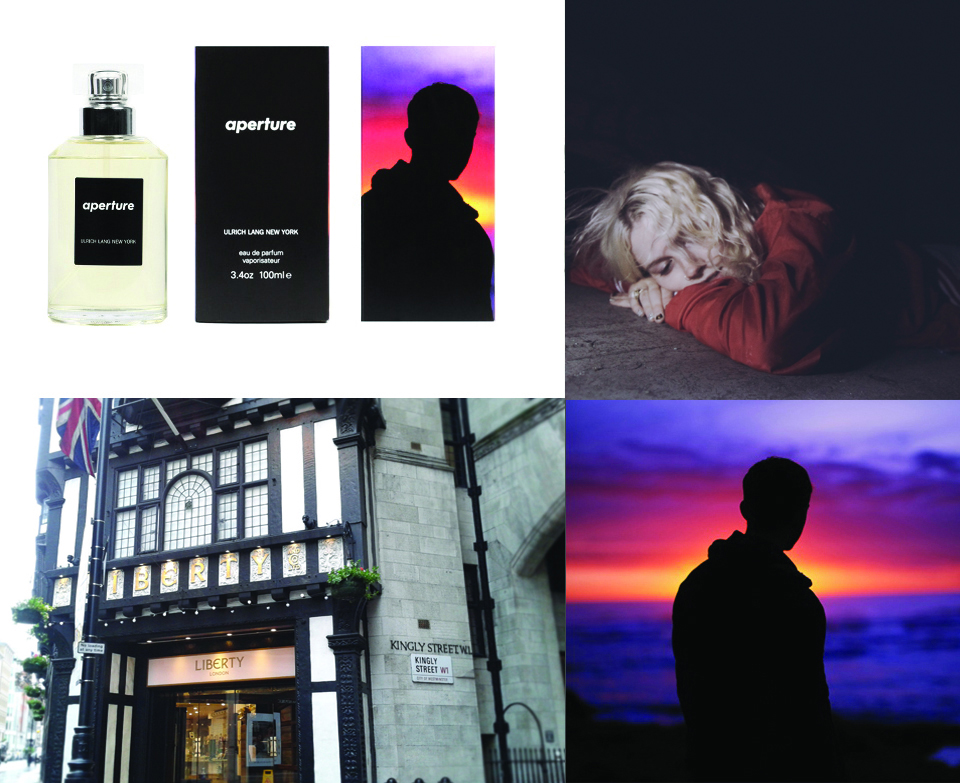 #LUXELIBERTYLANG INSTAGRAM COMPETITION
Fancy winning a bottle of Ulrich Lang New York's new fragrance Aperture and the chance for your photography to be featured on a limited run of its packaging?
From the 1st to the 30th of September, we at Luxe Associates are running a very exciting competition for budding photographers and fragrance fans alike, in association with Liberty of London, Ulrich Lang New York and Olivia Bee, in support of Aperture Foundation.
Ulrich Lang New York
In 2002, former L'Oreal Executive Ulrich Lang partnered with longtime friend Britt Biegelsen to create a line of fragrances inspired by contemporary photography. Each of Ulrich Lang's fragrances are composed of eclectic notes that artfully balance simplicity with sophistication. Beautiful photographic scenes adorn the box of each of their five fragrances.
In celebrating the launch of new perfume APERTURE, we are offering one entrant the chance to have their photograph featured on a limited run of its packaging. This run of 100 bottles will be numbered and the first bottle will be given to the winner in a presentation held at Liberty.
Liberty will also feature the wining photograph in one of their future windows along with a bottle of the fragrance.
The lucky winner will be selected by 20-year-old fashion photographer Olivia Bee, who made a name for herself after shooting an ad campaign for Converse when she was just 14. Since then she's shot for Adidas, The New York Times and most notably Hermes, at only 19 years of age.
Aperture
Introspective and heady, Aperture Ulrich Lang New York is a woody-spicy fragrance for a new age.
Top Notes: 
Aldehydes, Pink Pepper, Black Pepper, White Pepper
Mid Notes:
 Tobacco, Jasmin, Cedarwood, hint of Muguet
Dry Notes:
 Musk, Veviver, Ambergris, Animalic Notes, Amber
How to enter:
To enter, simply upload a photograph that captures the spirit of Aperture's notes to your Instagram account, hashtagging it #luxelibertylang.
If you would like to smell the perfume, head down to Liberty of London on Regent Street where Aperture will be launching exclusively from the 1st of September!
At the end of the month, the top 25 photographs with the most "Likes" will advance to the final selection. Be sure to share your photograph across various social media platforms and encourage your friends and family to vote for you!
From this final selection, the team at Liberty will choose their top five favourites. Photographer Olivia Bee will choose a winner from Liberty's top five favourites. The winner will be contacted in mid October with the news.
Vote:
You can view the entries and vote for your favourites by searching the #luxelibertylang hashtag feed on Instagram.
Donations from sales of the Aperture fragrance go to the Aperture foundation, created in 1952 as a not for profit multi platform foundation that supports up-and-coming photographers and artists. If enough quality images are submitted to this competition, we hope to produce a picture book for the foundation, so you shouldn't be too disheartened if you don't win; your photograph can still be put towards a great cause.
Please note:
You must have a high-resolution version (300dpi or higher; no smaller than 12″ x 8″) of your photograph available to send over if you win. We recommend that you take a photo on a camera and then upload it to Instagram rather than taking it directly through the app. The packaging requires a horizontal format so take a photograph with landscape orientation.
It is okay if your image does not completely fit into the Instagram format; we understand it is just a preview.
We're very excited to see some of your beautiful, creative photography and we hope you're excited by the prize! The competition runs from the 1st to the 30th of September, so start planning your entries now!
Terms & Conditions:
By submitting a photographic entry, you confirm the image belongs to you and is free from any copyright or other possible infringements.
No nudity or offensive images.
In the interests of remaining neutral, please refrain from using religious imagery.
No text over the image.
Must have a high resolution landscape version of the image available.
Must be available to come to London for the launch of the perfume limited bottles on the day stipulated (December 2014- date tbc).
 Travel and other expenses will not be paid.
Must agree to give up the rights to their photograph.
You may submit more than one image. However, only the image with the most likes from each instagram user may be put forward for judging.